Normandie Camping

 – The Cotentin Peninsula

A magnificant region to discover : La Hague, Cherbourg and the Cite de la Mer, Granville and the Mont St Michel, Utah Beach, Landing Beaches, Regional Park of swamps…
Mont Saint Michel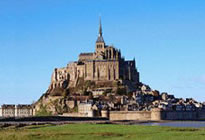 Discover in Normandy an outstanding abbey  and the bay of Mont-Saint-Michel, miracle of the nature. Conducted tour of the bay. Classified site UNESCO world heritage.
Granville, 
The city of the pirates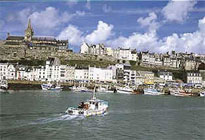 Near the bay of the Mont-Saint-Michel, Granville is a town with a rich historic heritage. To visit : Christion Dior Museum, Vieux Granville Museum, Aquarium du Roc. And the beautiful beaches of Carolles and Jullouville.
Tatihou Island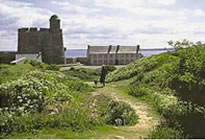 Island museum in the wide of Saint Vaast la Hougue. A boat assure the crossing. On the spot, the tower Vauban and the Maritime museum telling about the naval battle of Hougue. In August, there is a celebrate festival of the musics of the wide : « Les Traversées de Tatihou ».
Cherbourg, Cité navale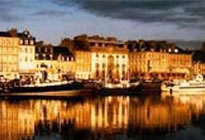 Port, reception of the stopovers of passenger ships, marina, Cherbourg is a town turned to the sea. Sea excursion around the biggest artificial natural harbour of the world.
La Cité de la Mer
Come and visit La Cité de la Mer in Cherbourg, a family attraction all about man's adventures under the sea, and a must when you are in Normandy. You can spend the whole day here and go round "Titanic, return to Cherbourg", an exhibition which has its like nowhere else in France. It is on the theme of the celebrated liner, but also on emigration*. You will also be able to listen to the Captain of Le Redoutable telling you about his life on board the largest submarine open to the public in the world**. Then you will gaze in awe at our 17 aquariums, including the magical, 11-metre-deep, Abyssal Aquarium.
* When there is a cruise ship visiting Cherbourg harbour, the Emigration area will be closed to the public. The Titanic area remains open.
** for reasons of safety, children under five are not allowed to visit Le Redoutable submarine
Regional Park of swamps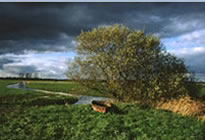 An exceptional natural heritage : visit the space discovery and the bird sanctuary of the "ponts d'Ouve", to understand  the lifestyle of the inhabitants of swamps.
Barfleur – Fishing port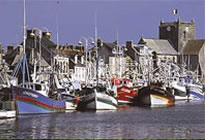 Traditionnal port where Guillaume le Conquérant boarded for the conquest of England. You can visit the port of Saint Vaast la Hougue fortified by Vauban in some kilometres.
Utah Beach, D Day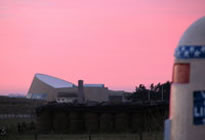 Beaches of the Landing of June 1944. Museum and relics of the longest day … Museums, cemetery and military battery.
La Hague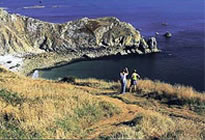 The cliffs of the Hague and of the "Nez de Jobourg" allow to take advantage of the beautiful landscapes and the English-Norman islands. You can make a walk in the « sentier des douaniers » (GR223)
Credits : CDT 50
To find out more : Manche tourism